Introduction to Portfolio Management
YOUR CHALLENGES
Are you wondering which projects are really active in the organization ?
Do you feel that people are not focused enough on strategic priorities ?
Would you like to be able to help your teams deliver faster ?
We are here to help you.
We offer simple tools, easy to learn and apply, that help consolidate the information you need to steer your company.
LEARNING OBJECTIVES
After this training you will understand how to: 
Get full visibility on your project pipeline

Clear definition of Portfolios, Programs, Projects with their project lifecycle, ownership, status & health

Focus  & Align the organization on strategic priorities

Using several criteria: strategic alignment, financials (NPV, ROI, Payback), risks, resources & costs and Agile techniques

Accelerate Strategy Execution by increased focus and dynamic decision making based on portfolio health

Using a Portfolio Roadmap & Decision Dashboard
This introduction does not provide our ready-to-use template and does not offer group-coaching to help you build your portfolio. If you want to learn on-the-job using our template, please choose the Pragmatic Portfolio Management training. 
TRAINING CONTENTS
Portfolio Management Framework : Strategy Implementation & Portfolio Processes
Process 1: Ideate (Identify & Categorize)- Project Types, Programs & Portfolios
Process 2: Evaluate (& Select)- Strategic Alignment- Financials- Risks
Process 3: Prioritize- Weighted Shortest Job First- Resources & Budgets
Process 4: Balance- Risk vs Reward- Sustainability
8 STEPS TOWARDS FASTER STRATEGY EXECUTION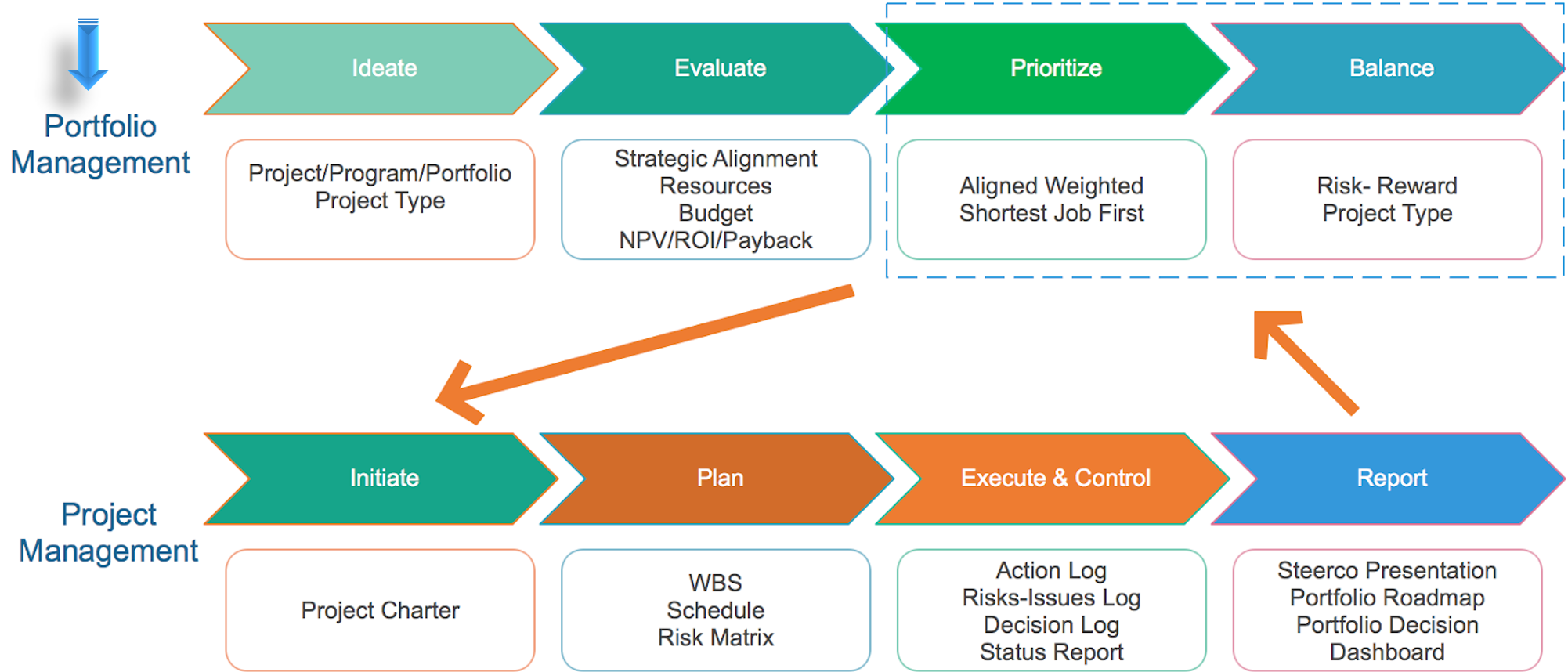 WHY TRAINING WITH US ?
Focus on key processes and questions that speed up strategy implementation
Project Portfolio Tracker Step-By-Step template embedding Portfolio Management Best Practices, developed over years working with several customers on real-life portfolios and projects
Adapted to busy professionals: 2-4h per week over 5 weeks
On-the-Job practice with group-coaching
Instructor with recognized expertise & field experience