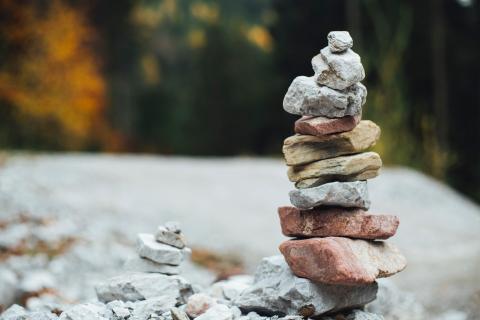 Merging Methodologies to make a Business Process Reengineering a success
In many strategic programs either driven by a technology change or a need to implement deep business changes, it is necessary to combine methodologies to address the different aspects of the program such as business process reengineering, change management and program/ project management.
Here follows a concrete proposal on how to do this.
We will look at deliverables from each methodology and define what we think is a natural sequence between them. Rectangles represent phases or process groups for each methodology. Below are the main deliverables.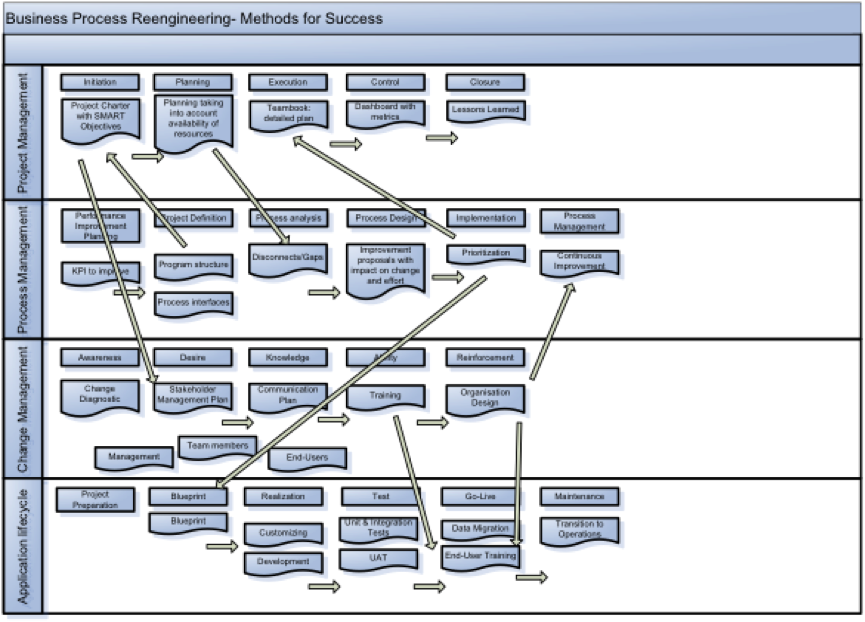 We start from which operations the business aims at improving in the forms of KPIs to be reached. Many companies struggle with the quantification of objectives, but it is worth the time defining targets to drive the design and establish improvement priorities. In this type of endeavors, focus is a critical success factor. It is not possible to change everything at once and many people will be tempted to include their own change objectives in the program, making it too heavy and difficult to take decisions to satisfy all stakeholders. These KPIs will keep teams honest through the program execution.
Many of these KPIs can come from benchmarks available in the industry.  For example, cost per employee payslip for the HR payroll process, or Overall Equipment Efficiency in manufacturing.
At the same time, a sort of change readiness assessment can be useful to check if the organization is ready for such change and identify areas where most attention should be drawn to overcome obstacles.
From this and, also based on the review of process boundaries, the program can be composed of a number of projects and a project charter with SMART (Specific, Measureable, Agreed Upon, Realistic and Timely) objectives can be crafted for each project.
For example, in the context of smart cities deployment at federal level, an energy distributor defined a program made of a number of projects, one which was related to the deployment of smart meters while another project focused on the adaptations to connect to the federal energy clearinghouse, among others. Another program was split into different projects related each to one macro-process covering multiple departments such as Order-To-Cash, Make-To-Order, Purchase-to-Pay, thereby strongly aligning with operational targets.
Once the project charter agreed upon by top management, a realistic planning taking into the availability of resources can be defined with the teams and validated by top management. If needed, additional resources can be brought onboard to meet deadlines.
The process analysis can then start with the analysis of gaps that prevent the business to achieve its objectives (KPIs).  Improvement proposals can be documented with an impact analysis on the necessary change and effort to implement.
Prioritization of these improvement proposals needs to take place in a Steerco with top management.
Based on this decision, a detailed implementation plan can be defined (a revised version of the initial project plan will be approved), for example in the form of a teambook translating the high level plan in a clear list of actions with a deadline assigned to individuals and based on this, the teams can start their implementation work.
The execution is monitored via status report feeding a dashboard summarizing progress, issues and decisions to take.
In terms of process and application deliverables, the standard application  lifecycle can be followed:
First, a blueprint gathering business requirements and corresponding solution design is prepared.
Then, customizing/configuration and development can be worked on.
A sequence of tests can be performed: unit testing, integration testing led by IT and finally user acceptance testing (UAT) led by business once key users have been trained on the solution by IT. If these UAT are successful, then end users can be trained on the approved solution.
In parallel, stakeholder impact analysis is run and a change management plan put together including communication, training plan, organization design and resistance management throughout so that when starting UAT and End-User training the business community can be mostly on-board.
Multiple go/no go checkpoints will make sure that the project is going in the right direction on the different dimensions of the project.
Finally cutover activities can take place, including migration of data prepared already during the realization phase of the project, go-live can take place and high level of support during the first weeks of operations delivered.
Lessons learnt can be drawn for subsequent projects and the organization can start to work in continuous improvement mode.
This is in short how deliverables covering project management, business process reengineering/management, change management and IT application lifecycle intertwine to deliver a successful program.
Of course there are many other details to look at in order to make a success of this kind of program, but it would take a full book to cover them so we will stop here in this article.
Having a clear idea of necessary deliverables and their sequencing is already a good step forward. 
Articles on the same topic: 
Customer reference: BESINS HEALTHCARE