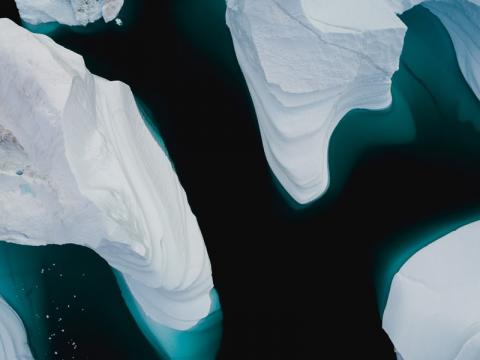 Identifying, Evaluating and Influencing Stakeholders during Changes
After looking at the drivers and types of changes, let us now look at how to address the different stakeholders needs during the change.
Stakeholder identification
There is a wide range of stakeholders to consider within and outside the organization:
Society: people not interacting directly with the company but who will contribute to its image

Customers: they should hopefully be positively or not negatively impacted by the change, depending on whether the goal is directed towards them or not

Shareholders: they are looking forward to the benefits of the change but do not necessarily experience the change itself

Top Management/ Executives- Directors: some are leading and controlling the change status- others are indirectly impacted

Middle Management / Managers/ Supervisors: some are managing (planning and following up) the changes- others are indirectly impacted

Employees/ Workers: some will implement the changes - others are indirectly impacted

Suppliers/Providers/ Partners: they might be part of or impacted by the change

      
 The table below gives an indication of the potential impact of each change type for each stakeholder category (H: High Impact; M: Medium Impact; L: Low Impact):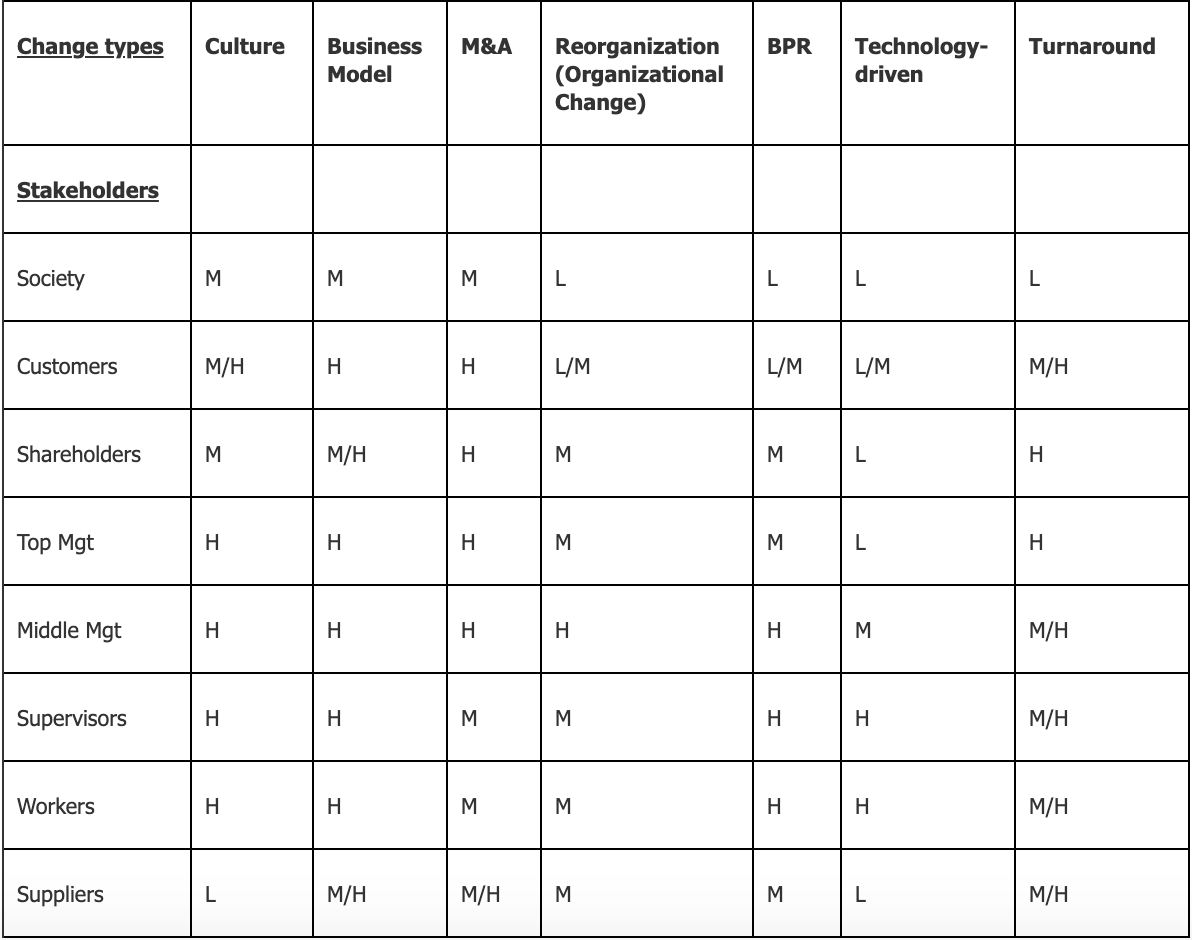 In most changes there can be many people impacted. It is therefore important to focus the efforts on the right people instead of diluting the effort on all.
Let's take the example of a Business Process Reengineering in Finance, involving the design of leaner processes and the move of some services to a shared service center (type of reorganization). This is an internal endeavor that is mostly transparent to society and customers. It impacts shareholders in the sense that they expect savings from this strategic project, increasing profitability which could translate into higher dividends depending on other concurrent capital investments. Top management is not all directly involved in the project. Directors of the Finance department, HR directors of involved personnel are strongly involved, others are interested in the opportunity to improve financial services. Finance Managers are strongly impacted as the processes and related roles and responsibilities are reviewed, together with supervisors and employees of these departments. Operating Procedures will change and some people will need to change jobs within the organization or even leave the organization. It has clearly a high impact on them.
In M&A, top management and middle management typically faces job redundancy, which creates a lot of resistance. Those who remain may need to adapt to a new culture (often the one of the acquiring party).
Technology-driven projects affect less top and middle-management, but more the supervisors and workers in their daily routine, in the sense that this category of projects affect less the internal processes of the organization, unless they are combined with business process reengineering, as is often the case when implementing an ERP.
In turnarounds, change has to happen quickly and can be more drastic because of the urgency, so impact on people can be very high.
Stakeholder assessment- position
Once impacted stakeholders are identified, we determine how they are aligned with the change. This can be summarized in the table below:

People of high influence and showing strong support to the change should be used as main ambassadors for the change.  People of high influence and showing strong resistance towards the change should initially not be tackled frontly, but nevertheless kept in the loop until fence sitters can be onboarded and a significant critical mass reached in favor of the change.
Note that not only stakeholders with formal authority (top executives) should be attended to. Key opinion leaders across the organizations (the people employees naturally refer to because of their expertise and integrity) are equally important. It is fairly easy to identify them just by asking to the people who they listen to.
Note also that management itself can sometimes be a much stronger opponent to the change than workers because they might have more to lose and might try to protect their power.
In the BPR example, resistance from a regional manager was not obvious at once, but very deep, and it took constant monitoring and "massaging" to get and keep this person aligned with the project.
Change curve
Once we know how important stakeholders position themselves with respect to the change, we need to devise tactics to influence some of them to join the supporters of the change. The Kubler-Ross model, describing the typical phases that a person goes through when facing a change, from denial to anger, passing through bargaining, despair and finally acceptance and cooperation, helps us know how to react towards stakeholders. If a person is currently angry, there is no use in trying to convince her. Rather she should be left alone until calmed down. Then she can be accompanied with the right empathy through the bargaining and despair phases, to help go through it as fast as possible and reach the acceptance phase when a constructive dialogue can be built.
Influence
The highly recommended book "Influencer", written by the excellent authors of "Crucial conversations",  tells us that change should focus on critical behaviors, because this is the real concrete things we see in changes and is therefore easier to monitor and act against.
To change these critical behaviors, we should work on 3 levels and 2 aspects. Here is a high-level summary of strategies that we can apply: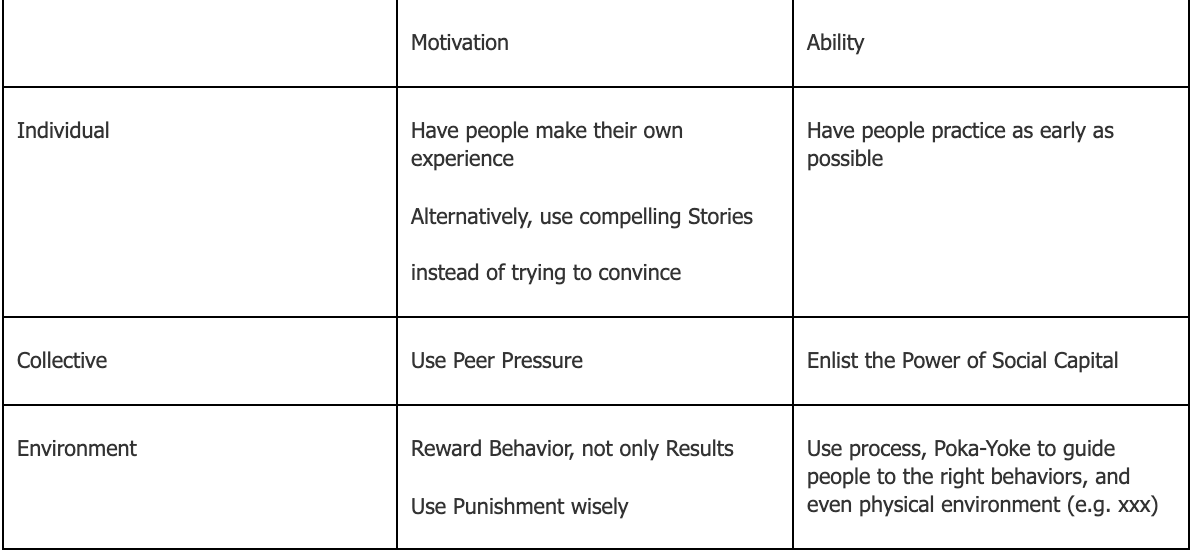 Change Management versus Project Management
Is change management different from regular project management and when should it be started in the project lifecycle? 
Typical Change Management deliverables are organizational change readiness assessment,  stakeholder management plan, communication plan, training plan and change dashboard to monitor change health.
They can be treated as a specific category, like Software Delivery Life Cycle (SDLC) deliverables, such as requirements, design, development, tests, implementation plan. As such they can sometimes be managed by a dedicated person, the change manager who reports to the project manager.
In IT projects, the change manager often focuses on the business impacted by the delivery of a new software tool, ensuring the tool responds to the business requirements, that the people buy into the tool, that they feel comfortable with its roll-out. He works hand-in-hand with both Business and IT project managers (depending on the size and complexity there might be one project manager on each side).
For BPR (Business Process Reengineering), a change manager can ensure the departments whose responsibilities are changed participate to the elaboration of the new procedures, understand what is expected of them to ensure buy-in early on.
Project Management makes sure all aspects of the project are well planned and monitored.
 It is often heard that the sooner change management is started , the better. It starts to be really critical when the project solution gets tested by the "recipient" organization.
In the end, regardless of the model and tools used to manage the change, it is mostly organized common sense (like project management) and anticipation. There is no need to develop very complex schemes. What is important is to address the right questions at the right time.   
Articles on the same topic: