Pragmatic Portfolio Management
YOUR CHALLENGES
Are you wondering which projects are really active in the organization ?

Do you feel that people are not focused enough on strategic priorities ?

Would you like to be able to help your teams deliver faster ?
We are here to help you.
We offer simple tools, easy to learn and apply, that help consolidate the information you need to steer your company.
LEARNING OBJECTIVES
After this training you will be able to: 
Get full visibility on your project pipeline

Clear definition of Portfolios, Programs, Projects with their project lifecycle, ownership, status & health

Focus  & Align the organization on strategic priorities

Using several criteria: strategic alignment, financials (NPV, ROI, Payback), risks, resources & costs and Agile techniques

Accelerate Strategy Execution by increased focus and dynamic decision making based on portfolio health

Using a Portfolio Roadmap & Decision Dashboard
TRAINING CONTENTS
Portfolio Management Framework : Strategy Implementation & Portfolio Processes

Build your Portfolio

Process 1: Ideate (Identify & Categorize)- Project Types, Programs & Portfolios

Process 2: Evaluate (& Select)- Strategic Alignment- Financials- Risks

Process 3: Prioritize- Weighted Shortest Job First- Resources & Budgets

Process 4: Balance- Risk vs Reward- Sustainability
8 STEPS TOWARDS FASTER STRATEGY EXECUTION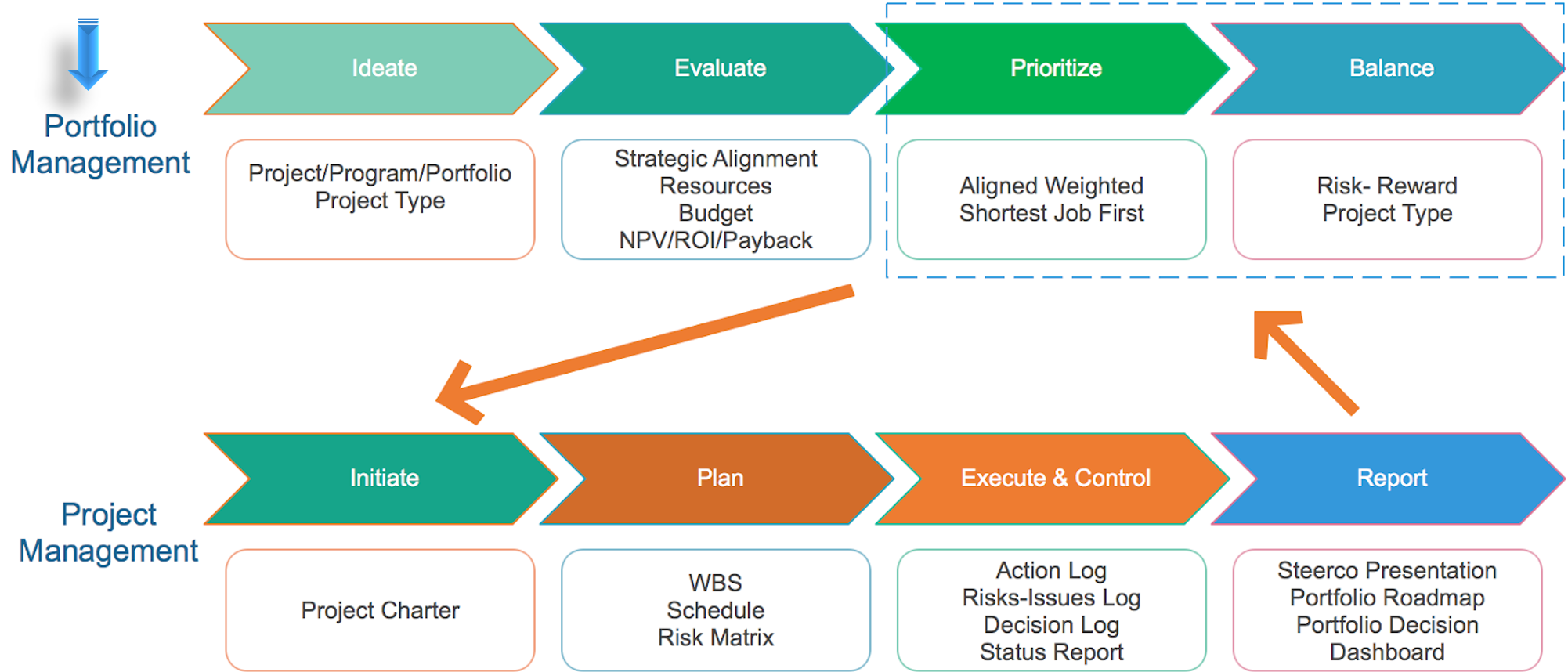 WHY TRAINING WITH US ?
Focus on key processes and questions that speed up strategy implementation

Project Portfolio Tracker Step-By-Step template embedding Portfolio Management Best Practices, developed over years working with several customers on real-life portfolios and projects

Adapted to busy professionals: 2-4h per week over 9 weeks

On-the-Job practice with group-coaching

Instructor with recognized expertise & field experience 
WHAT DO OUR CUSTOMERS SAY ABOUT US ?
Luc Goris, IT PMO,  FOD-IBZ, 2023
"Very interesting course for anyone who wants to implement portfolio management in the organisation. The course is well structured and builds up logically. The videos in the different chapters are of a perfect length (maximum of 15 minutes) so they can be fully watched whenever you have a bit of time. The cases used in the course are realistic and easy to relate to. The template for the portfolio tracker is easy in use and guides you through the whole process of project prioritization.  All in all I would recommend this course to all present and future portfolio managers. "
Ines van Obbergen, Program Manager, Fost Plus, 2020
"Nicolas is a driven program manager. He has insights in business processes, dares question current processes and is an optimistic result-driven coach. I enjoyed working with him "
Luc Pirau, IT PMO, AGC 2013
"Nicolas has a very good knowledge of the PMO area. He knows how to tackle the problems and how to structure the projects. His support in our challenges is of a very high added value."
Davide Cappellino President Architectural Glass Europe & Americas, AGC, 2013
"Nicolas did a brilliant job in setting up the project management system and communication tools at the start of a very important and complex project. In very short time he understood the characteristics and challenges of the budiness and he put in place a constructive relation with all the project team members. I recommend him warmly"
Patrick Kamba, Project Manager, GSK, 2011
"Nicolas is a people oriented project manager. If you are planning to develop your competencies, e.g prepare a PMI certification and you're not sure about how to proceed, Nicolas is definitely the person to meet. In effect, he has the capability to challenge you in a very smooth way, ask you the right question, help you find your way. I hope he will go on developing these coaching skills in the future as they could become of his key personal and professional assets."