Pragmatic Project Management
Transform your Project Management Skills with our Template & Group-Coaching ! 
YOUR CHALLENGES
Are your projects still taking much longer than expected? Do you know why? 

Did you follow training(s), but you do not see clearly how to improve the way you manage your projects? 

Do you feel your current project management tools are too heavy and are more a burden than generating added value?

Are you new to the Project Manager role? Would you like to accelerate your learning experience?
We are here to help you. 
We offer simple tools, easy to learn and apply, that help focus on right behaviour through the project management processes: 
Enabling decision making by top management 

Aligning stakeholders (what- scope and how- planning)

Enabling easier collaboration within the project team
After all, project management is 80% communication. Let's make sure everyone gets the information (s)he needs to contribute in the best way.
LEARNING OBJECTIVES
After this training you will be able to: 
Align Stakeholders on project expectations

Write a project charter defining clearly the project

Build a Realistic Plan

Integrate key project dimensions (scope, time, cost, resources, risks)

Visualize scope with WBS, Build high-level and dynamic schedules, Build your budget, Use appropriately a Risk Matrix

Engage the team in executing the plan

Focus on what needs to be done next & on issue resolution

Use Action/ Risks-Issue/ Decision/Scope Change Logs

Control the project and report to management

Ensure key deviations are noticed and key decisions are taken on-time

Make effective status reports &  Steering Committee presentations

Apply Best Practices on your current project and use our proven template, the Project TeamBook

Accelerate the delivery of your projects !
TRAINING CONTENTS
Project Management Self-Assessment

Project Management Challenges & PMBOK Framework

Build your Project Teambook

Process 5: Initiate- Project Charter

Process 6: Plan- WBS- Schedule- Cost & Budget- Risks

Process 7: Execute & Monitor- Earned Value

Process 8: Report - Status Report- Report on Project & Portfolio
STRATEGY EXECUTION 8 STEPS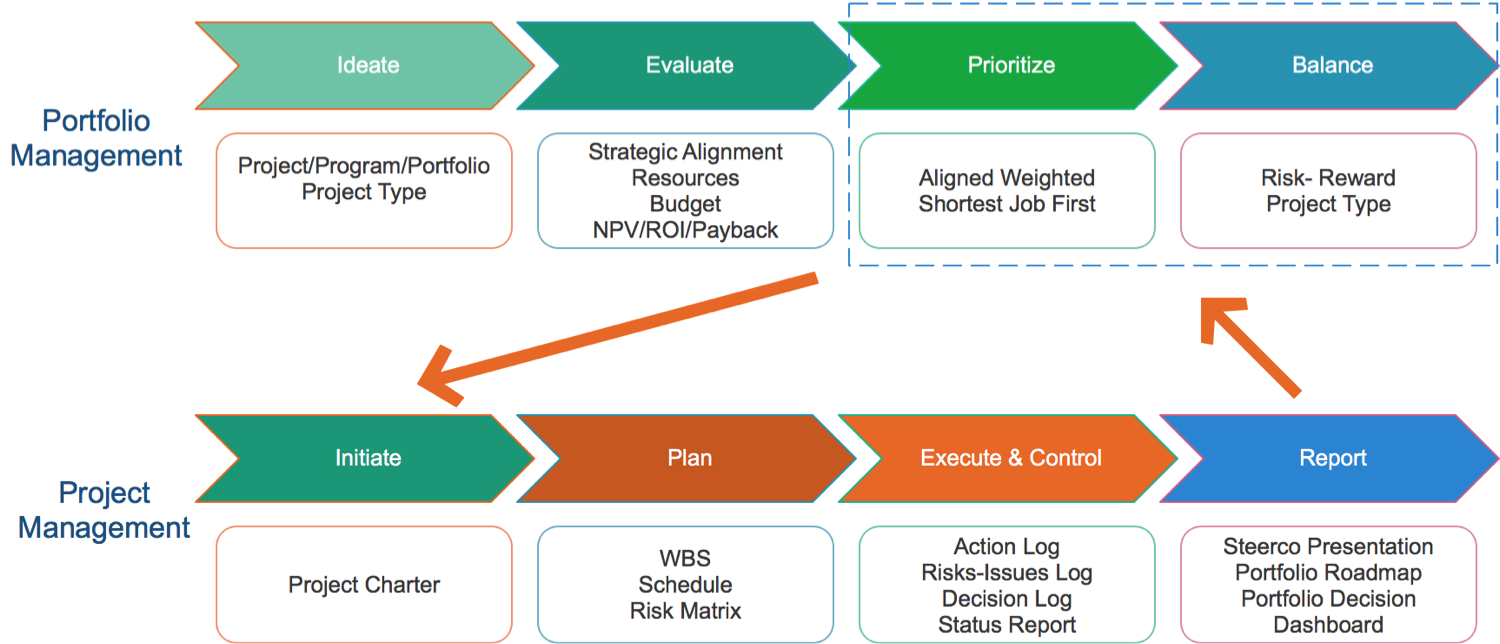 ABOUT THE TRAINER
20+ years experience managing different kinds of projects/ programs: R&D, IT Infrastructure, IT ERP, Supply Chain, Business Process Reengineering, Start-Ups

Setup of multiple PMOs (Business & IT)

Delivering pragmatic Trainings since 2002:

Different formats: standard or custom trainings, workshops, community of practice

300+ Project Managers trained

50+ Project Managers coached

High customer satisfaction

Certified Project Management Professional since 2003

Multiple articles published by PMI's

projectmanagement.com

  since 2009
WHY TRAINING WITH US ?
Focus on key processes and questions that speed up strategy implementation

Project Teambook Step-By-Step template embedding Project Management Best Practices, developed over years working with several customers on real-life projects

Adapted to busy professionals: 2-4h per week over 6 weeks

On-the-Job practice with group-coaching

Instructor with recognized expertise & field experience  
WHAT DO OUR CUSTOMERS SAY ABOUT US?
Stijn Vlaminck, IT Manager, Mithra Pharmaceuticals, 2022
"We are very satisfied with this Coaching Program. We knew we could improve. Now we know how !
The Project Teambook template is useful. It is a shortcut to implement best practices. For example, project milestones, attention to communication and risks enable a more robust plan.
The workload spread across several weeks perfectly suits regular workdays.
The Thinkific learning platform is easy to use, and the content is well structured. "
Ines van Obbergen, Program Manager, Fost Plus, 2020
"Nicolas is a driven program manager. He has insights in business processes, dares question current processes and is an optimistic result-driven coach. I enjoyed working with him "
Luc Pirau, IT PMO, AGC 2013
"Nicolas has a very good knowledge of the PMO area. He knows how to tackle the problems and how to structure the projects. His support in our challenges is of a very high added value."
Davide Cappellino President Architectural Glass Europe & Americas, AGC, 2013
"Nicolas did a brilliant job in setting up the project management system and communication tools at the start of a very important and complex project. In very short time he understood the characteristics and challenges of the budiness and he put in place a constructive relation with all the project team members. I recommend him warmly"
Patrick Kamba, Project Manager, GSK, 2011
"Nicolas is a people orientated project manager. If you are planning to develop your competencies, e.g prepare a PMI certification and you're not sure about how to proceed, Nicolas is definitely the person to meet. In effect, he has the capability to challenge you in a very smooth way, ask you the right question, help you find your way. I hope he will go on developing these coaching skills in the future as they could become of his key personal and professional assets."